In the past 3 years the Spanish National under-17 team have won the UEFA Under-17 European Championship on two occasions. Those teams contained several players that are from the Barcelona youth setup. We will profile a few of these players in this article.

2007
The 2007 event saw the Spanish National team emerge with the title beating their English counterparts in the final. Barcelona prodigy Bojan Krkic got the only goal of the game in that final. The team contained several Barcelona youth team products including Bojan, Iago Falque, Fran Merida and Cristian Valle.

Bojan Krkic
Bojan was no stranger to the competition had taken part in the 2006 event as a 15 year old where he emerged as joint top scorer of the tournament with 5 goals including a hat-trick off the bench against hosts Luxembourg in a 7-1 demolition. He once again came off the bench in the third place game to great effect scoring against the Germans. The game went to penalties and Bojan proved his nerves of steel scoring what turned out to be the winning penalty in the penalty shootout that finished 3-2 in Spain's favour. German wunderkid Toni Kroos had the chance to extend the penalty shootout but missed the final penalty for the Germans.


- Bojan goal -

Having taken his team to 3rd place as a 15 year old the previous year Bojan returned the following year. He opened up his account in the final group stage scoring the lone goal in Spain's 1-0 win over Switzerland. As with great players however he saved his best for the big occasion. In the semi-final against a Belgian team that contained reported Barcelona target wunderkid Eden Hazard, Spain found themselves down to 10 men after key player Pichu was sent off. Things seemed to be going from bad to worst as Spain then conceded an own goal and looked to be going out of the competition.

But cometh the hour cometh the man as Bojan smacked home the equalizer for Spain with just 8 minutes left. The game stayed that way after extra time and went to penalties where Bojan converted his penalty as Spain advanced to the final 7-6 on penalties.On to the final where once again Bojan proved why he is one of the "Europe's brightest prospects" according to the UEFA website for the tournament. The report on the UEFA website describes Bojan's winner in the following way

"England nonetheless survived the first period and after the interval the breeze was behind them. However, eight minutes in, the man who scored twice against them in a 3-2 win for Spain in October, Bojan, did it again. Steele could only parry a Merida effort and Bojan was there to shoot in with aplomb past two despairing defenders to the delight of the sizable Spanish support."

The headlines stolen then "Bojan strike gives Spain title" and "Bojan strikes for Spanish success" adorn UEFA's official website as the Barcelona starlet wrote his name into the history of the European under-17 championships.


- Bojan winner vs England -


Iago Falque
Iago can possibly be considered as another one in a long list of talent from the Barcelona youth academy that got away. A left-sided winger with great promise Iago was once considered a player that could eventually play for the Barcelona first team. After doing well at youth level for Barcelona's Juvenil A team and helping Bojan to guide Spain's U-17 team to the 2007 European Crown with 2 goals, Iago was tipped to be promoted to Barcelona Atletic.

However new manager Luis Enrique had different ideas refusing to promote Iago and after strong interest from Manchester United, Ajax and Juventus he decided he wanted to leave. Realizing that they could lose another young Spanish talent for nothing, Barcelona made a desperate attempt to get Iago to stay by reportedly offering to promote the youngster after all. The player however had made up his mind and eventually Barcelona cancelled his contract so the youngster could leave for Juventus at the start of this season.

He would go on to say in a later interview that

"Luis Enrique told me from the start that he had a lot of people for my position. Later he said that he counted on me, but by that time I didn't want to continue anymore. I was already talking with other clubs and my mind had left the club."

He has played for Juventus B this season and is yet to make his Serie A debut.

- see a video of Iago below -



Francisco Merida
What is it about players whose names begin with Fran sneaking out of Barcelona. Merida joined Barcelona at age 8 and was touted as a future star. However as with another famous Fran, Francesc Fabregas, Barcelona would lose their man to the so called great developer of talent Arsene Wenger. The trouble all started when Merida who had signed a precontract agreement with Barca at age 14, stating that he would sign professional terms with Barcelona two years later, disappeared for several months.

Reports are that his agent Joseba Diaz hid Merida away and then snuck him to England without telling Barcelona anything (a similar situation was reported to have occurred with Manchester United's da Silva twins Rafael and Fabio who claimed recently that an Arsenal agent had asked them to leave for Arsenal without letting their club know but they refused and ended up joining Manchester United Instead).


- Merida -

Apparently Merida's parents had become uneasy with all of the young players joining Barcelona and decided that their son would have a better chance elsewhere. AC Milan, Real Madrid and Arsenal were all interested with Arsenal being his final destination. He was given Fabregas' old room according to reports.

Furious at having lost another central midfielder prodigy for nothing Barcelona sued Merida and won 3.2 million euro in compensation, a cost which Arsenal covered despite claiming no wrong-doing in the incident. Merida nevertheless helped Spain to the U-17 title in 2007 and has gone on to represent Spain at u-19 and u-21 level. He spent last season on loan with Real Sociedad and has made his league debut for Arsenal this season.


Cristian Valle
Valle did not make the cut for the Spanish squad for the final round of the 2007 European U-17 championships, but he did play a part in the earlier rounds playing against Switzerland, Poland and Sweden in the "Elite round" (the stage before the final group stage) of the European Championship. A left side defender by trade, Valle made the jump from Barca's Juvenil B squad to Barca's Juvenil A team this year and was part of the team that recently won the league and followed that up with Champions Cup. A possible player for the future if Valle can continue to improve, the left-back position has been a concern of late for Barca and in Valle they could find a replacement right under their noses

- See a video of Cristian Valle -



2008
The 2008 tournament proved to be more of the same for Spain as they claimed their 2nd straight European crown and once again Barcelona players had a key role to play. Players from Barcelona once again had a key role with Thiago Alcantara was the star this time scoring one goal in the final and setting another up, ending second joint top scorer in the competition. The Barcelona players that were selected this time were Martin Montoya, Oriol Romeu, Thiago Alcantara, Rueben Rochina, Alex Sanchez Benitez, Carles Planas and Adria Carmona.

Thiago Alcantara
Thiago Alcantara has been touted as a future Barcelona first team player for about 3 years now. Those who have seen him play have very high regard for the midfielder. Son of former Brazilian World Cup winner Mazinho (1994 world cup) born in Italy and groomed early on by Flamengo, Thiago joined Barcelona at the tender age of 13 and has since been touted as a future star.

His talent was easily recognisable and his father recently told Setanta that Chelsea offered him a move when he was 16 but he turned them down because he was happy with Barcelona. (He also mentioned his younger brother Rafa who is being followed by several teams as well but who also wants to stay)

He proved his class in the 2008 tournament against France in the group stage twice drawing Spain level in a 3-3 draw, with two free kicks. He then went on to convert a penalty in the final against the French once again in a 4-0 demolition. In the UEFA match report they describe his contribution to the final in the following way

"Keko was the inspiration behind the victory, producing a display which eclipsed even that of last year's final winner Bojan Krkić. He turned in Thiago's pass just after the half-hour and his ball set up Sergi early in the second period for Spain's second.

Thiago had outshone Keko prior to this final and got in on the act with a lovely shimmy, though Manu was denied by a tackle from fellow substitute Willy Boly, making his finals debut. Fauré was then adjudged to have tripped Sielva as he surged into the area and Thiago put away the first non shoot-out penalty of the finals."

Thiago one of the stars of the tournament has continued to work and he was recently rewarded with his first cap for the Blaugrana in the game against Mallorca and also has moved up to train with the Spain U-19 squad. Definitely a bright future ahead, Thiago is one to watch for in the near future.

- See a video of Thiago here -



Martin Montoya
Martin Montoya is another youngster that played a crucial role in Spain's Championship playing all of Spain's Final group stage games along with their semi-final and final clashes. A right back by trade Montoya's talent was recognized by the Barcelona coaching staff who called him up to the Barcelona B team pre-season friendly with Swansea. He started the season with Barca Juvenil A, but was called up to Barca Atletic for the game against Osasuna B earlier this season at the tender age of 17 after an injury to first choice Corcoles.

He was recently selected in the shortlist of right-backs for the Futbol Draft awards, the most prestigious Spanish awards for youth players between the ages of 16 and 21. He was also called up to the Spanish u-18 team for the clashes with the French u-18 team on May 19 and 21 along with other Barcelona players Thiago, Ruben Rochina, Alex Sanchez Benitez, Marc Bartra Aregall and former Barcelona youth player Daniel Pacheco who now plays for Liverpool. He has trained with the first team during an international match break along with other youth players such as Gai Assulin, Jonathan dos Santos (brother of Gio) and Polaco.

Carles Planas
Another promising left back to come out of the Barcelona youth setup is Carles Planas. Carles as he is known started the first game of the under-17 championships at left back and was subsequently dropped from the team for the next two games. A resilient player however he found his way back into the team in the semi-finals and finals and helped Spain to their second title in as many years. He has also been nominated for the Futbol Draft awards in the left-back category and although starting this year as captain of the Barcelona Juvenil B team.

His performances led him to play with the Juvenil A team and he even featured in the Juvenil A teams Champions cup final victory over Celta Vigo. Capping off a brilliant rise in 1 season he received a call to Luis Enrique's Barcelona B team earlier this season and filled in admirably in a 0-0 draw. He has also been capped for Spain at the under-19 level and having turned 18 this March and is definitely one to watch for the future.

- See a video of Martin Montoya and Carles Planas here -



Rueben Rochina
Rueben had a good under-17 tournament starting the semi final and coming on as a substitute in the final. His finest moment came on the group stage where he rescued Spain who were trailing the Republic of Ireland by 1 goal to nil. Coming off of the bench Rochina netted a double as Spain came back to win 3-1. The official UEFA website described his goals as follows

"Ireland were playing for pride and took an early lead through Conor Hourihane. But Rubén, filling the No9 shirt worn last year by FC Barcelona colleague Bojan Krkić, turned the game with two superb strikes and provided Keko with the clincher which ensured Spain finished above France on goal difference and set up a Tuesday semi-final with the Netherlands.

In the end seven minutes was all Rubén needed to open his tournament account, Keko jinking in the area and passing for the striker to beat Hanley with a left-footed shot.

Hanley stopped another Rubén effort but his second goal soon followed, a low-curling free-kick from the edge of the area worthy of any level of football. Ireland refused to be beaten and Hourihane smashed a drive on to the underside of the crossbar. The ball also fell nicely to substitute Robert Brady who shot over, but Spain had the last word, Rubén returning the favour for the first goal by setting up Keko to produce a neat finish, ensuring Spain avoid facing hosts Turkey in the last four."


- Rochina -

This display by the player who has been described as a "true killer in the box" came as no surprise to the Barca staff. Rueben came to Barcelona via Valencia in 2004. He was promoted through the ranks to the Juvenil B team last season where he scored 15 goals before December earning a promotion to Juvenil A. Rueben a left footer stands at 182 cm giving him an ability to win arial challenges, which is always a good thing for a centre forward. He has been called to the Barcelona Atletic team more than once this season and showed his worth scoring a double against Swansea in the pre-season friendly along with 2 league goals. He has been nominated for the Futbol Draft awards in the Centre Forward position along with Bojan.


Alejandro Sanchez Benitez
Alejandro Sanchez Benitez or Alex had a good tournament keeping 2 clean sheets in 4 games including a clean sheet in the final. Despite conceding 3 goals to the French in the opening round Alex bounced back to shut them out in the final. Currently with Barca's Juvenil B team Alex at age 18 has a bright future ahead of him and has been called up to the Spanish national u-18 squad to face the French in two friendly games in May.

Adria Carmona
Carmona played all of Spain's U-17 games and had a good tournament. A left winger Carmona has played for Barcelona Juvenil A this season and has drawn interest from Tottenham Hotspur along with other top clubs such as Chelsea, Man Utd, Arsenal, Liverpool, AC Milan, Inter and Juventus. He recently scored in the Juvenil A teams Champions Cup final victory and at just 17 he is definitely one to watch for the future.


























- Adria Carmona -


Oriol Romeu
Oriol Romeu is a defensive midfielder who has also been scouted by Europe's elite like Adria Carmona. He plays for the Juvenil A team but he has been called up by Barcelona Atletic already this season. He started the European under-17 semi final against Holland as well as Spain's first two games but did not play in the final and was not on the bench. Romeu also received a call up to Luis Enrique's Barcelona Atletic team this season filling in as a defender in a 0-0 draw with Denia and also against Santa Eulalia in a 1-0 win which showed his versatility. At age 17 Oriol is a player to watch in the coming years.


2009
After two years of brilliance Spain crashed out of the final group stage of this year's European Championships. They did not score a goal but on the other hand they conceded no goals either. Perhaps a look at the makeup of the team gives some idea as to why this happened. In previous years the teams were rich with attacking talent from the Barcelona youth academy. On this occasion however the 4 Barcelona players that were selected were all defenders, a coincidence then that no goals were conceded? Maybe. The Barca boys who did a great job in the defence were Marc Muniesa, Sergi Gomez, Adria Blanchart, Albert Dalmau.

Marc Muniesa
So impressive was Muniesa that UEFA named him one of the Ten Future stars from the 2009 U17 finals saying on the official UEFA webpage

"Much was made of the fact that defending champions Spain, despite the best efforts of midfielder Koke and striker Borja, did not score a goal during the tournament, but they did not concede a one either and that has a lot to do with the performances of centre-back Muniesa. The FC Barcelona youth team member - who already competes with players two years older than him - does not just resemble Carles Puyol in looks, displaying a calm presence in the heart of the defence. Left-footed and strong in the air, Spain coach Ginés Meléndez made a point of highlighting his contribution after he returned from a ten month injury lay-off."


- Muniesa -

Muniesa had long been tipped as rising star and Sport profiled him as one to watch from the time he was 15 and Chelsea reportedly being ready to make an approach for him. He has however stayed with Barcelona and progressed through the ranks to the Juvenil A team where he played this year. Muniesa was also nominated for the Futbol Draft awards for the centre back position and is highly rated by all who see him. Possibly a second coming of Carles Puyol, he even looks a little like Barca's "Captain Fantastic". HOT HOT HOT prospect. Remember the name folks this one looks like he could be the genuine article.

- See another video of Muniesa here -



The Others
Of the other three defenders from the Spanish National u-17 team Dalmau and Gomez started all of the final round games while Blanchart stayed on the bench for all 3 games in the final group stage. These three young players all play for the Juvenil B team and Dalmau who is a right back has been nominated for the Futbol Draft awards in that position. Blanchart is a central defender that joined Barcelona from Espanol and is highly rated by the staff with Francisco Javier Garcia Pimienta telling Sport that Blanchart "is a very difficult central defender to overcome, who is very good in the air..."

Sergi Gomez Sola is also a central defender for the Juvenil B team. He scored the winner against the United States u-17 team in a warm-up for the European Championships. In the dying minutes of the warm-up game played in Madrid on the 18th of February 2009, Sergi scored the winner with a shot through a crowd of players after a goal-mouth scramble from a corner.

See pictures of Sergi Gomez, Blanchart and Dalmau: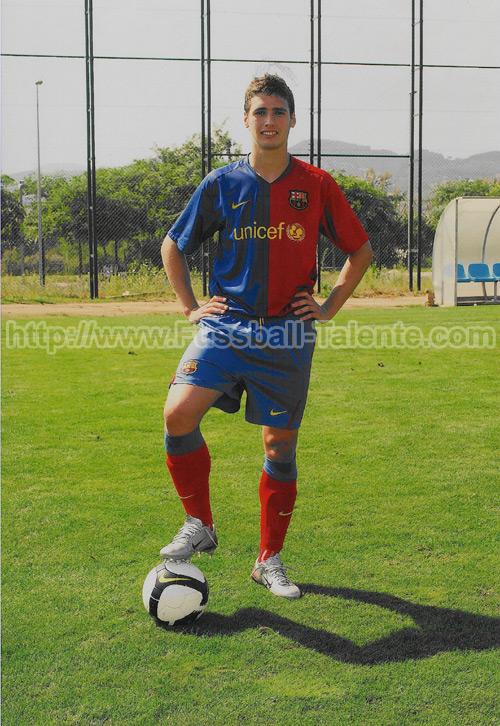 - Sergi Gomez -


























- Adria Blanchart (right) with coach Garcia Pimienta (centre) and Ivan Balliu (left) -



























- Albert Dalmau (#2 bottom right) -




barca4life